Scott's two organ CDs are available for sale here.  50% of your online purchase supports Grace Academy and Covenant Preparatory School in Hartford, CT. Thank you for your purchase!
Click here to find these recordings at the iTunes Store!
THE ORGAN AT WORSHIP

SCOTT LAMLEIN, ORGAN
1927 E.M. SKINNER ORGAN
WESLEY UNITED METHODIST CHURCH
WORCESTER, MA
 $18, plus $2.05 s&h
 Kodály: Organoedia ad missam lectam (Mass for Organ)
Bach: We All Believe in One God
Brahms: Lo, How a Rose E'er Blooming
Brahms: Ah, Holy Jesus
Shearing: I Know that My Redeemer Lives
Shearing: Jerusalem, My Happy Home
Duruflé: Choral varie: Veni Creator Spiritus
Innes: The Old Rugged Cross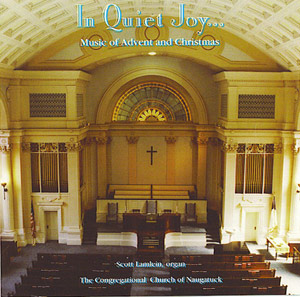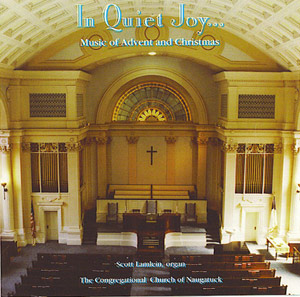 IN QUIET JOY
Music of Advent and Christmas
SCOTT LAMLEIN, ORGAN
1970 AUSTIN ORGAN
CONGREGATIONAL CHURCH
NAUGATUCK, CT
 $18, plus $2.05 s&h
Bach: Fugue in C minor
Yon: Veni Emmanuel
Rawsthorne: O Come, O Come, Emmanuel
Bach: Savior of the Nations, Come
Brahms, Diemer: Two Settings of Lo, How a Rose
Willcocks: O Come, All Ye Faithful
Bach: O Hail this Brightest Day of Days
Southbridge: Coventry Carol, Of the Father's Love Begotten
Bach: In Quiet Joy (chorale)
Dupré: In Quiet Joy
Bach: In Quiet Joy (fantasia)
Archer: In the Bleak Mid-winter
Purvis: It Came Upon the Midnight, Clear
Willcocks: The First Noel
Gawthrop: March of the Three Kings
Mulet: Carillon-Sortie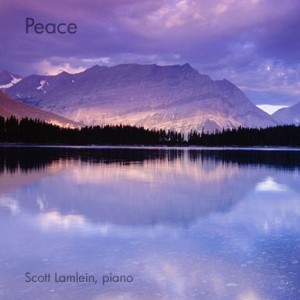 Peace
Scott Lamlein, piano
CD – $18
See pdf sheet music below.
Conceived for use as quiet preludes for worship, the minimalist piano works collected in Peace are perfect for personal meditation, relaxation, and music therapy. The simple, accessible melodies invoke a quiet that inspires the soul.
Click here to find these recordings at the iTunes Store!


Sheet Music from the album Peace
Prelude
Order Sheet Music PDF Download – $5.00
Order Printed Sheet Music  – $7.50 (includes shipping in the U.S.)
---


Quiet
Order Sheet Music PDF Download – $5.00
Order Printed Sheet Music  – $7.50 (includes shipping in the U.S.)
---


Hope
Order Sheet Music PDF Download – $5.00
Order Printed Sheet Music  – $7.50 (includes shipping in the U.S.)
---


Bells
Order Sheet Music PDF Download – $5.00
Order Printed Sheet Music  – $7.50 (includes shipping in the U.S.)
---


Gratitude
Order Sheet Music PDF Download – $5.00
Order Printed Sheet Music  – $7.50 (includes shipping in the U.S.)
---


Winter
Order Sheet Music PDF Download – $5.00
Order Printed Sheet Music  – $7.50 (includes shipping in the U.S.)
---


Melody
Order Sheet Music PDF Download – $5.00
Order Printed Sheet Music  – $7.50 (includes shipping in the U.S.)
---


Peace
Order Sheet Music PDF Download – $5.00
Order Printed Sheet Music  – $7.50 (includes shipping in the U.S.)