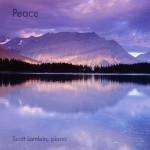 As I mentioned in yesterday's post, this is the first of my weekly posts that will include downloads of my piano music.
Gratitude is the first piano piece that I wrote, on Columbus Day weekend in 2008.  We were at Cape Cod, and the family had gone out for a walk and I stayed behind to play the piano.  As with all of my writing, I just started improvising, and suddenly realized that something special was going on. Finally, after a mad scramble for some sort of manuscript paper (in this case, the last page of a piano book actually had some!), a piece of music was born.
As all of my piano pieces, Gratitude is brief, simple, and comforting.  There is a small amount of ornamentation in the repeated theme, a very brief diversion, then a return to the main theme.  I played this piece in worship at First Congregational, Bristol, on a Sunday that we celebrated giving — hence the title.  However (and this part continues to be amazing to me), there is no question in my mind that the piece was about gratitude, or quiet thankfulness, even before the opportunity to use it and title it came into being.
This piece is very important to me, not just because it was the first, but because it sums up how I feel about this still-new drive to write music.  God continues to plant in me ideas, then confirm them by titling them in a strange, roundabout way.  I do my best to stay open to the "happening" of it, and am grateful to be the conduit.
Here it is:  Gratitude Audio Mp3 – Gratitude Sheet Music PDF (right-click, Save As will allow you to save the file to your computer)